Download Blast Radio
Download the free Blast Radio mobile app (available on iOS or Android) to set up your profile, pair your streaming product, and start streaming!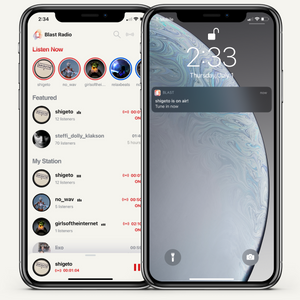 Where do listeners tune in?
Listeners use the Blast Radio app to follow you, tune in, and send Vibes and Fan Mail.  
Whenever you stream, your followers get a push notification and can listen live or for 24 hours afterwards.
You can always download your past streams to use however you like, even if they've expired for listeners.
Can I stream from the app?
In order to preserve sound quality, you need to use Blast Mic, Blast Box, or Broadcast Software to stream. There is no functionality for in-app streaming.
How do I download my past streams?
Go to your profile by tapping your profile image in the top right of the app then 'My station'
Tap the black drop down arrow on the 'my profile' button
Tap 'My broadcasts'
Find the stream you want to download
Swipe left on the screen across the broadcast you want to download
Tap 'Download'
We will email you a lossless .wav file.