Blast Mic is the easiest, limitless way to start a podcast.
Everything you need to record a podcast from anywhere, all in one lightweight device:
• Dual onboard stereo microphone
• Three audio inputs
• Two audio outputs
• Tripod ready
• Bluetooth and Wi-Fi compatible
• Lossless recording



Hear Blast Mic audio quality:
"This is not just a microphone, but an all-in-one broadcasting rig." - Cool Things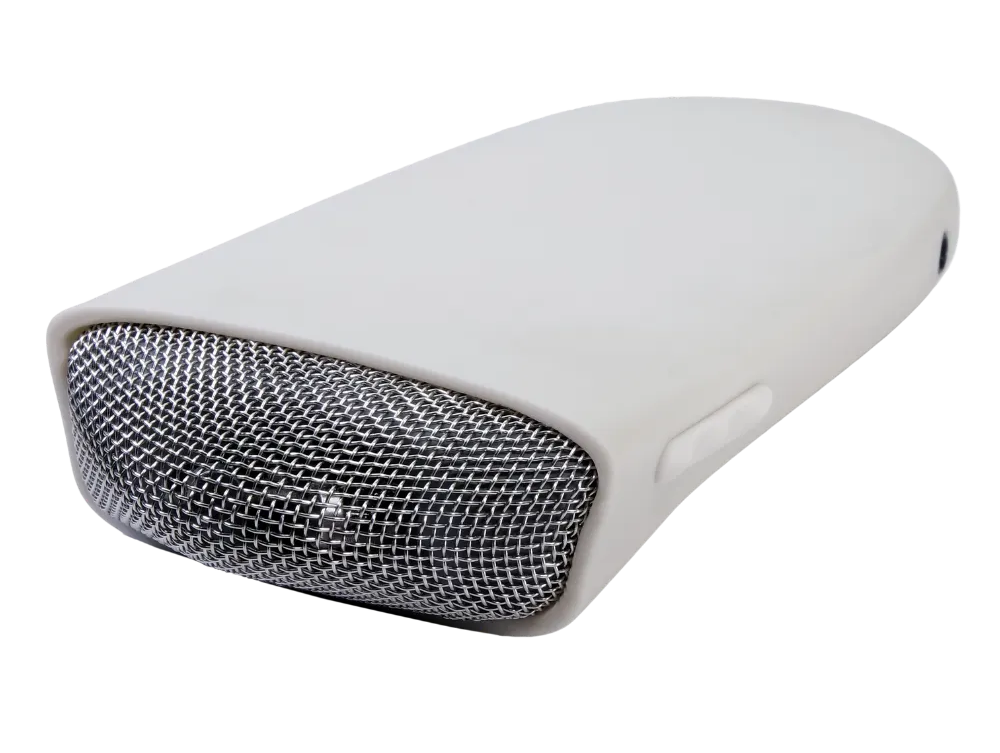 Simple setup. Simple streaming.
Blast Mic uses Wi-Fi to upload your audio to the cloud as an uncompressed .wav file then streams it to listeners in the highest possible quality.
To set up your Blast Mic, simply pair it to your account using Bluetooth then connect to a Wi-Fi network or a mobile Wi-Fi hotspot (you can even use your phone's hotspot).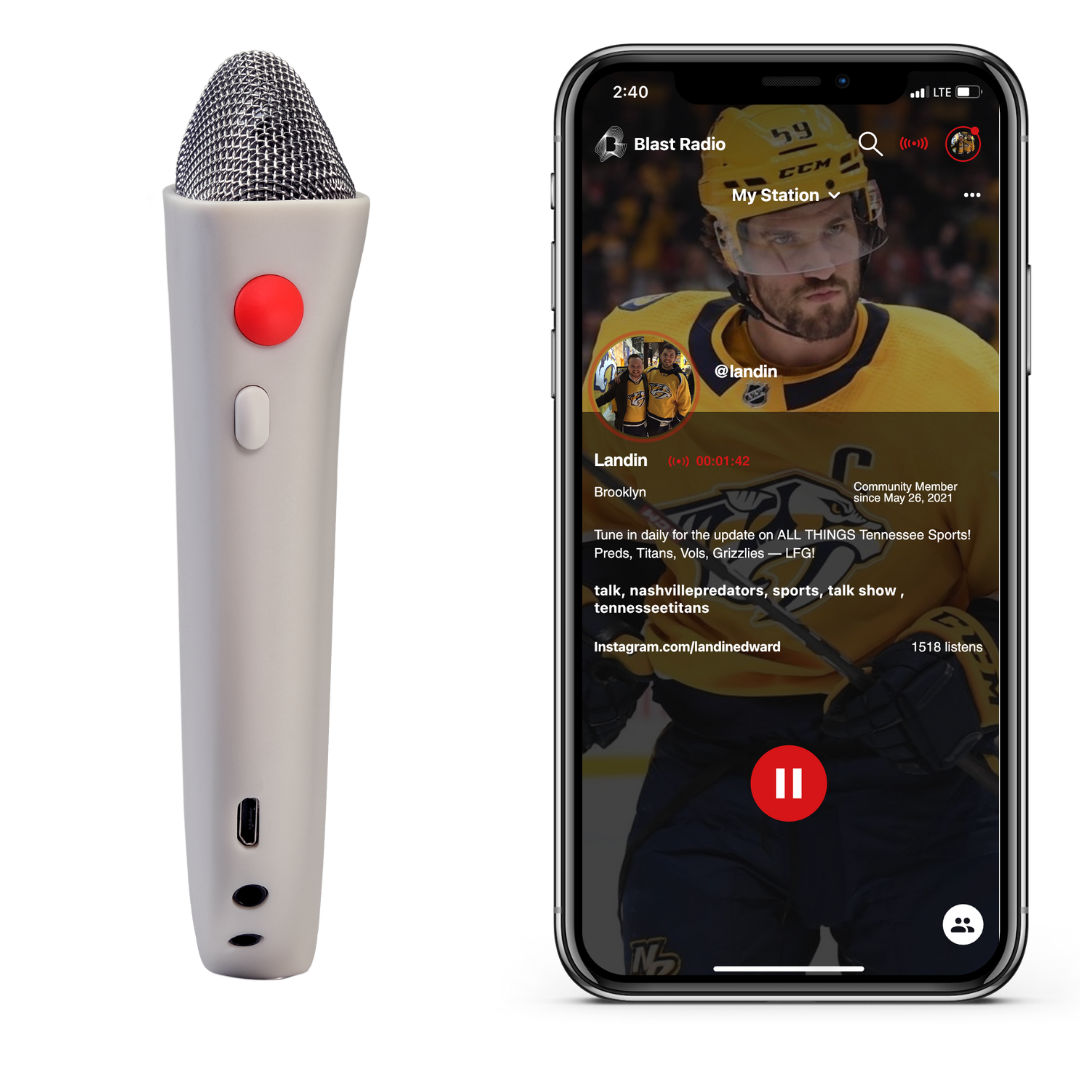 Listeners follow you and tune in through the free Blast Radio mobile app.
Blast Mic is how you capture and stream your audio.
Blast Radio is where you build your following and be heard. Listeners download the app, follow you, then get notified every time you stream.
If someone doesn't have the app, they can still tune in by visiting your unique web player: blastradio.com/YourUsername.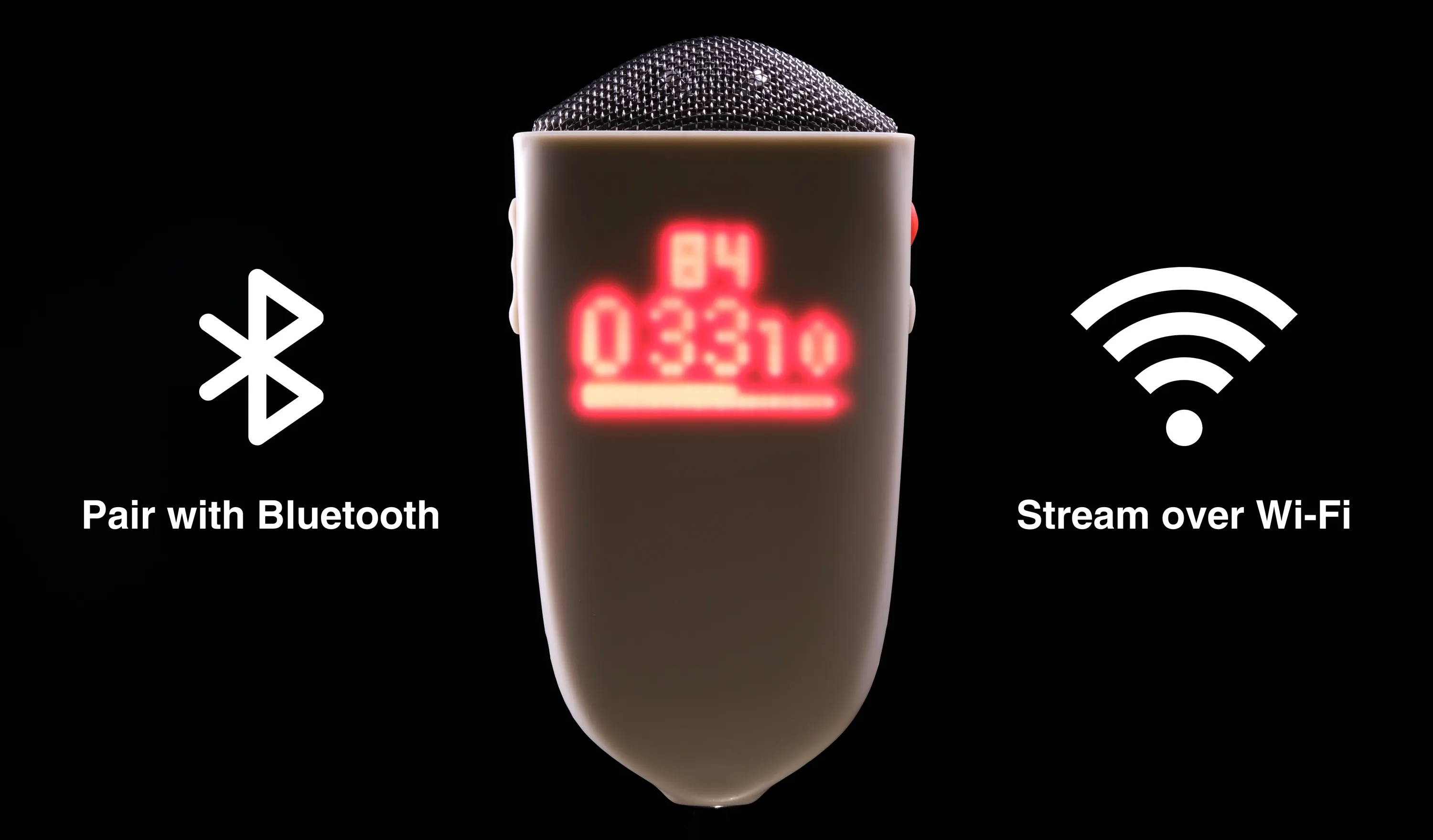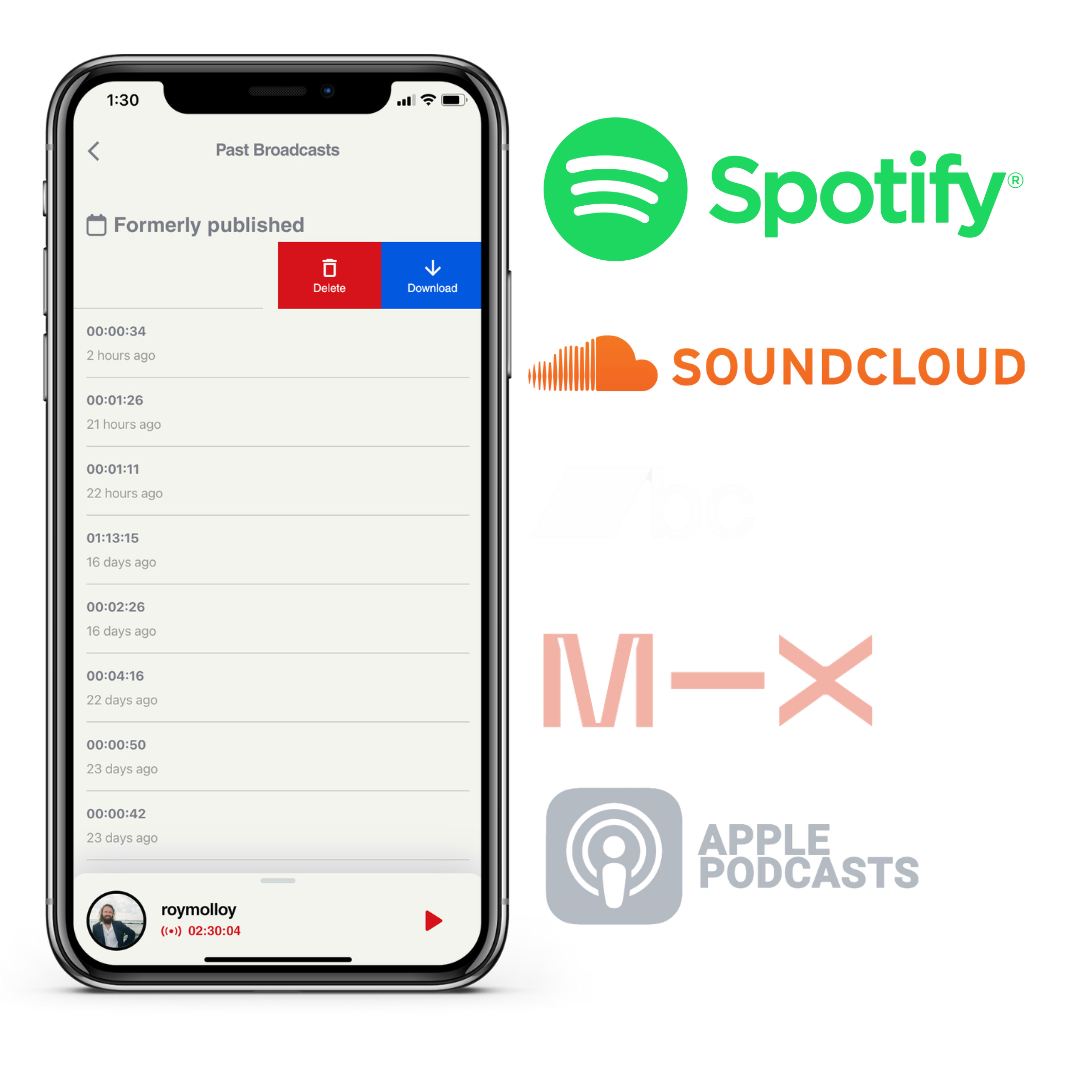 Easily download past streams and upload to other audio platforms.
All of your past streams are saved as a private archive with unlimited storage just for you.
Download any past stream from your profile and we will email you the lossless .wav file so you can upload it to any platform you choose. Make a podcast, release an NFT, drop an album... it's your content.
Ready to go where you go.
Blast Mic fits in the palm of your hand or the pocket of your jeans. The device can connect to any public Wi-Fi network or even your phone's mobile hot spot so you can take it with you everywhere.
Casing is made of a highly durable plastic so it's road-ready. Use the threaded tripod jack to connect to most any standard tripod.
Internal batter powers up to 8 hours of streaming on a single charge.
Info in the palm of your hand.
The internal LED display on Blast Mic glows red anytime someone joins your stream or sends you a monetary tip. While you're live, it shows how long you've been streaming and the number of listeners tuned in.
Press the grey toggle button to see your battery level, Wi-Fi strength, and username.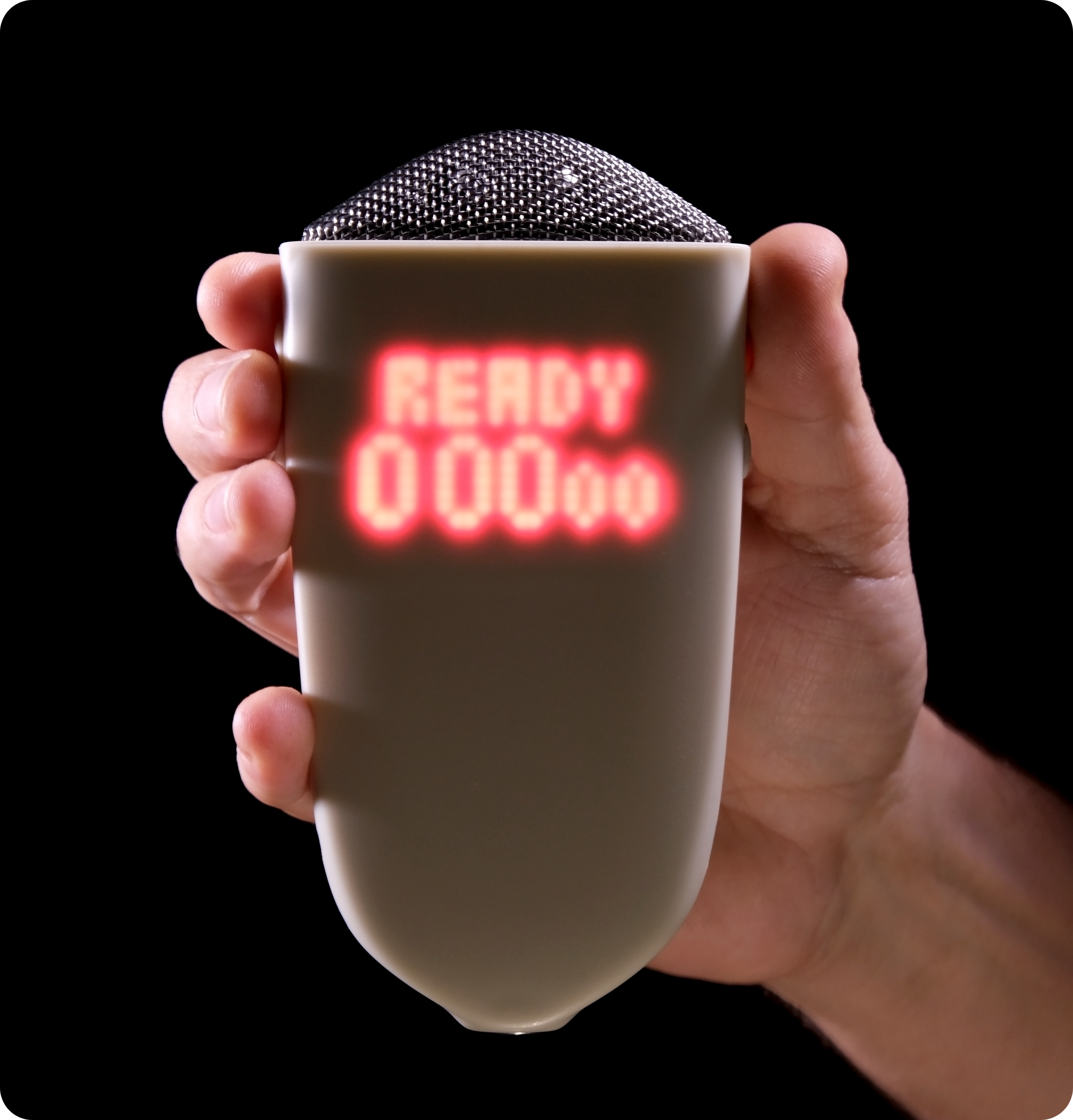 All the ins and outs you need.
Blast Mic Inputs:
Incorporate other sound sources into your streams through the 1/8" line level input.
Use your own external microphones through the two 1/8" mic inputs with 3-volt phantom power. Find the sound that works for each speaker with individual adjustable gain for each microphone input.
Blast Mic Outputs:
Hear how great you sound by connecting headphones through the two ⅛" output ports with dedicated volume control for each.
Use the same audio out port with an auxiliary cable to connect Blast Mic to your phone, computer, audio interface, or mixer.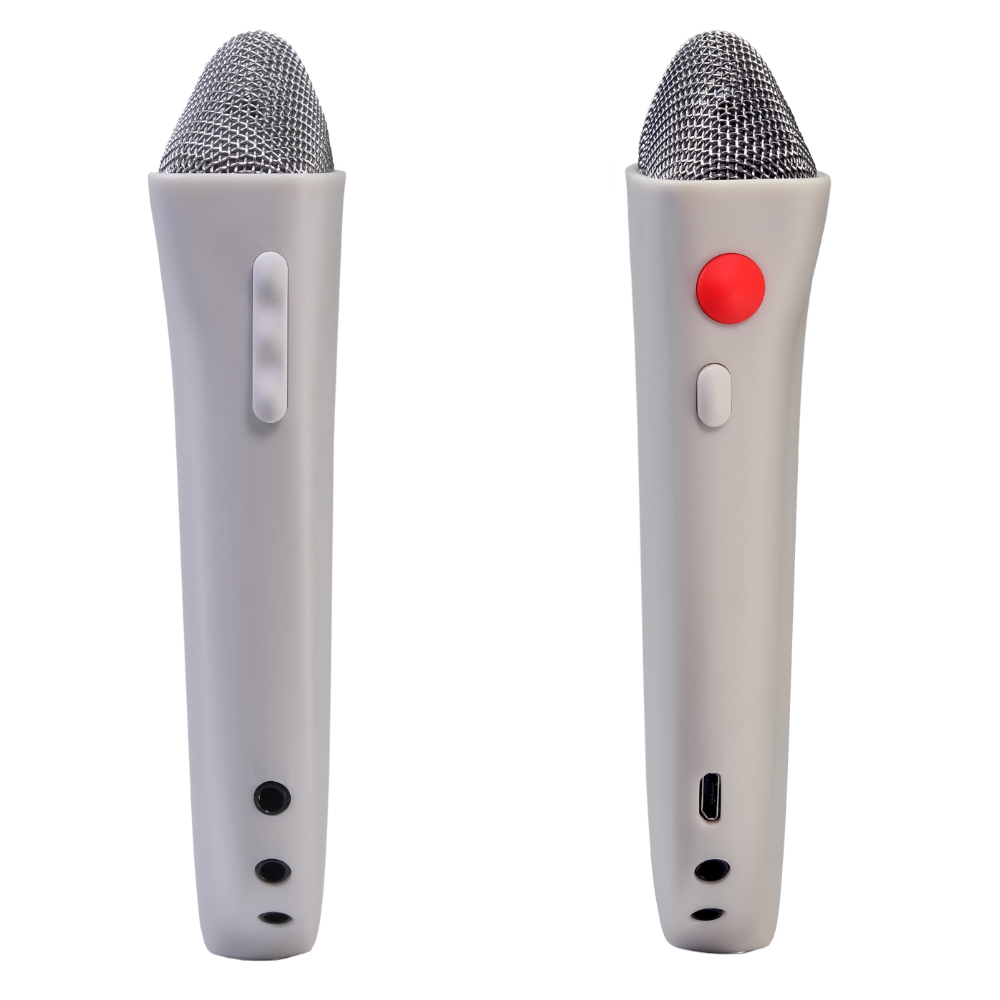 Blast Mic

Getting started guide

Micro-USB charging cable

Blast Radio sticker
On board stereo microphone:
Two electret microphones in XY configuration with adjustable gain.
Two 3.5mm mic inputs with 3-volt phantom power for external electret microphones.
Line-in level input allowing connection to most any audio source. Long press status button to mute all microphones in favor of the line-in input (useful to duck audio and speak over it).
Two headphone output ports with separate volume control for each and outputting 98dB SNR, 124mW. 1.5W. 102 dB signal to noise ratio (SNR) ADC.
Streaming uncompressed PCM audio packets lossless to the cloud (48kHz/16b). On-board signal processing to maximize audio quality. WiFi (802.11 b/g/n) connection provides a consistent, reliable stream.
Casing of highly durable polycarbonate plastic with concrete cream color finish. Bluetooth (4.2) makes setting up your device with your smartphone fast and easy. Charge from an external USB power source (up to 1A current). Internal battery powers ~8h of broadcast time on a single charge. Charges fully in ~2.5h.
Blast Mic uses Wi-Fi to capture audio in a lossless format, upload it to the cloud, and distribute to listeners in the highest possible quality. Having a quality internet connection is required to stream.
Shipping info & Refund Policy
Blast Mic currently ships to the U.S., Canada, Australia, and the U.K. If you're not located in one of these countries, Fill out this form to be notified when we ship to your country.
All devices ship from the United States. Shipping fees noted at checkout. We ship on a first-come, first-serve basis. Wait times may vary based on location and shipping method. There is a 15-day return policy for all units and a 1-year manufacturer warranty for any units with functional defects.