Blast Radio Featured Broadcasts
Featured broadcasts are a great way to gain followers and exposure for your broadcasts.
They are prominently shown on the home page of the Blast Radio app and all users are notified when a featured artists broadcasts, regardless of if they follow them.
With limited exceptions, there are only two featured broadcasts per day and an artist generally can only be featured once per month.
Our editorial team selects features based on originality of content and what best resonates with the Blast Radio listening community.
Read on for more.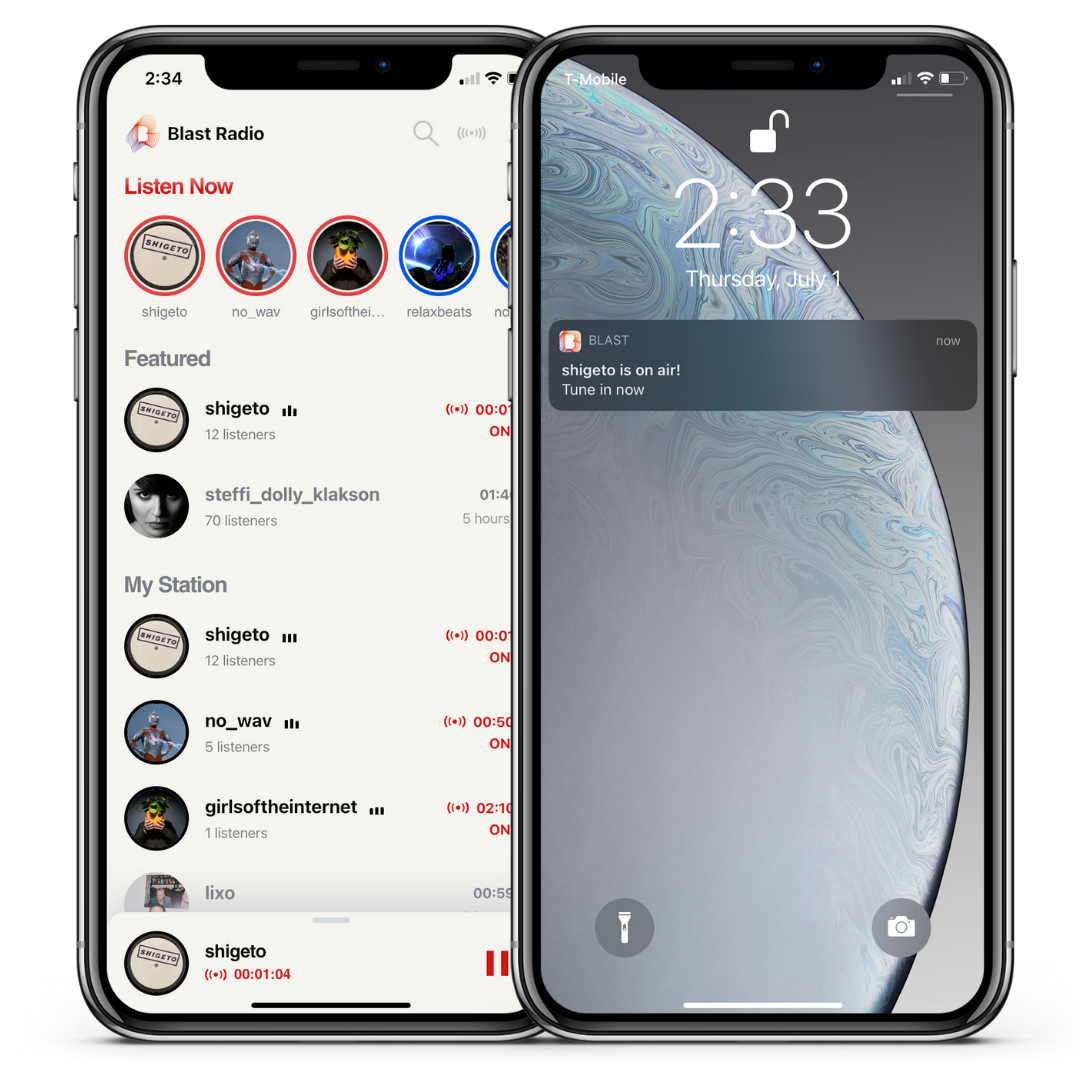 Requirements to be featured:
We want to ensure both you and Blast Radio listeners have a great experience. To be considered for a featured broadcast, we ask that you:
Complete your Blast Radio profile including images, tags, and bio.

Provide an approved photo we can use for promotion

Provide the time and date(s) you plan to broadcast; and commit to broadcasting at that time

Provide a description of what you will broadcast with as much detail as possible

Commit to doing a Sound Check in advance of the broadcast to ensure you have a quality connection

Commit to promoting your featured broadcast through your social channels (Instagram wall posts have proven best for listener engagement)
Note: there are only two featured slots per day and an artist can only be featured twice per month with limited exceptions.
What makes a good featured broadcast?
On Blast Radio you have total freedom to broadcast what you want, when you want. That said, Featured Broadcasts are your time to shine.
Our editorial team selects features based on originality of content and what best resonates with the Blast Radio listening community.
Good examples of when to request a featured broadcast are debuting unreleased material, hosting a special guests, taking live callers, doing a fundraiser, or kicking off a new recurring show.  
How does Blast Radio promote featured broadcasts?
In addition to the prominent placement in the Blast Radio app and all users receiving a push notification, we promote featured broadcasters through Blast Radio social channels and include them in the calendar on the home page of our website.
We also have an in-house marketing and PR team. If you're doing a particularly interesting or newsworthy broadcast and give us advance notice then we can pitch media outlets and encourage them to tune in / cover.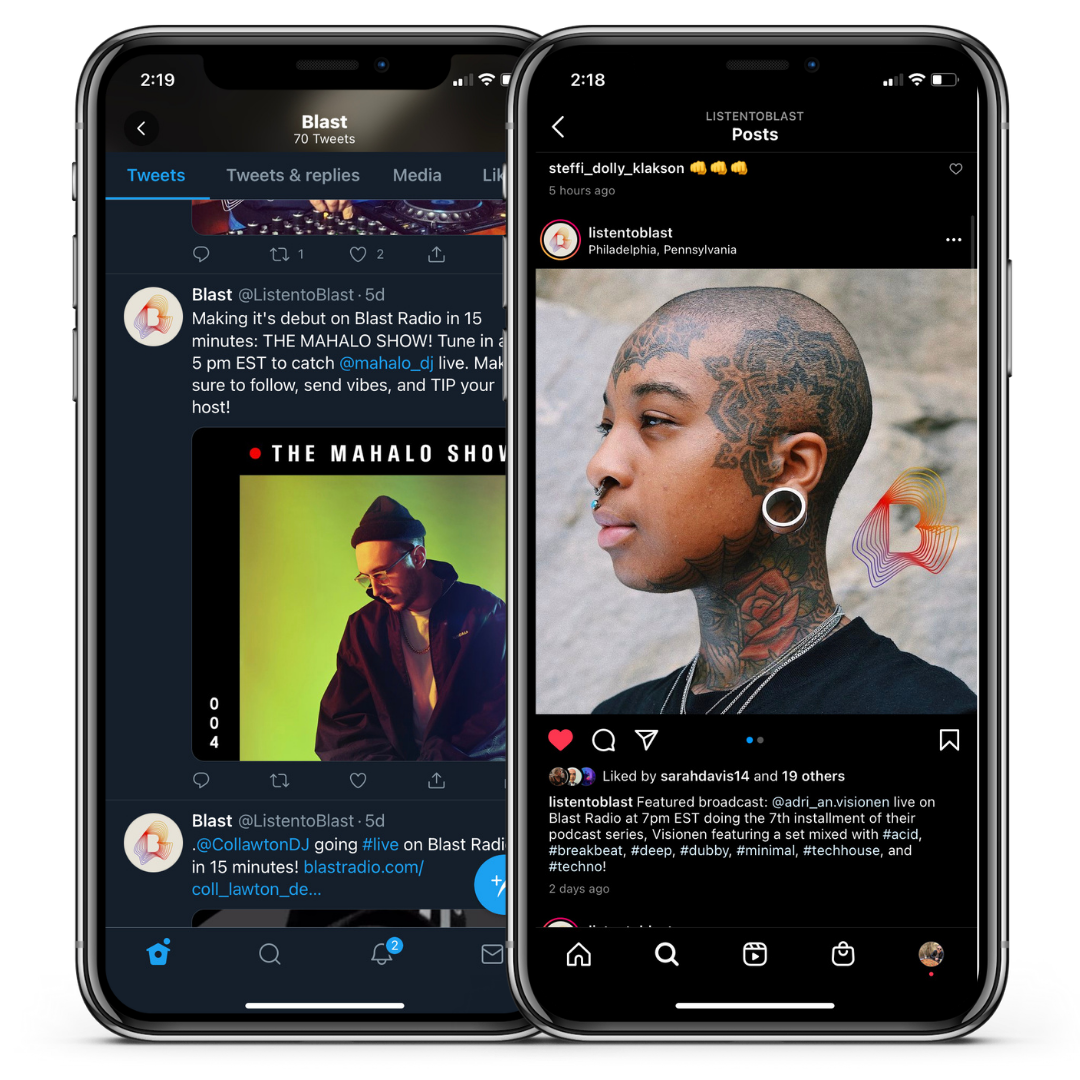 How should I promote my featured broadcast?

Drive listeners to your featured broadcast through email blasts, personal invites, and social media promotion.
We suggest sending an email blast and posting to your Instagram wall 1 week in advance.
The morning of your feature, post to more immediate channels such as Instagram stories and Twitter. Many artists also include the 'countdown timer' graphic or 'swipe up to listen' feature on their Instagram story.
Post again right before or as you start and include your unique Blast Radio web URL: blastradio.com/USERNAME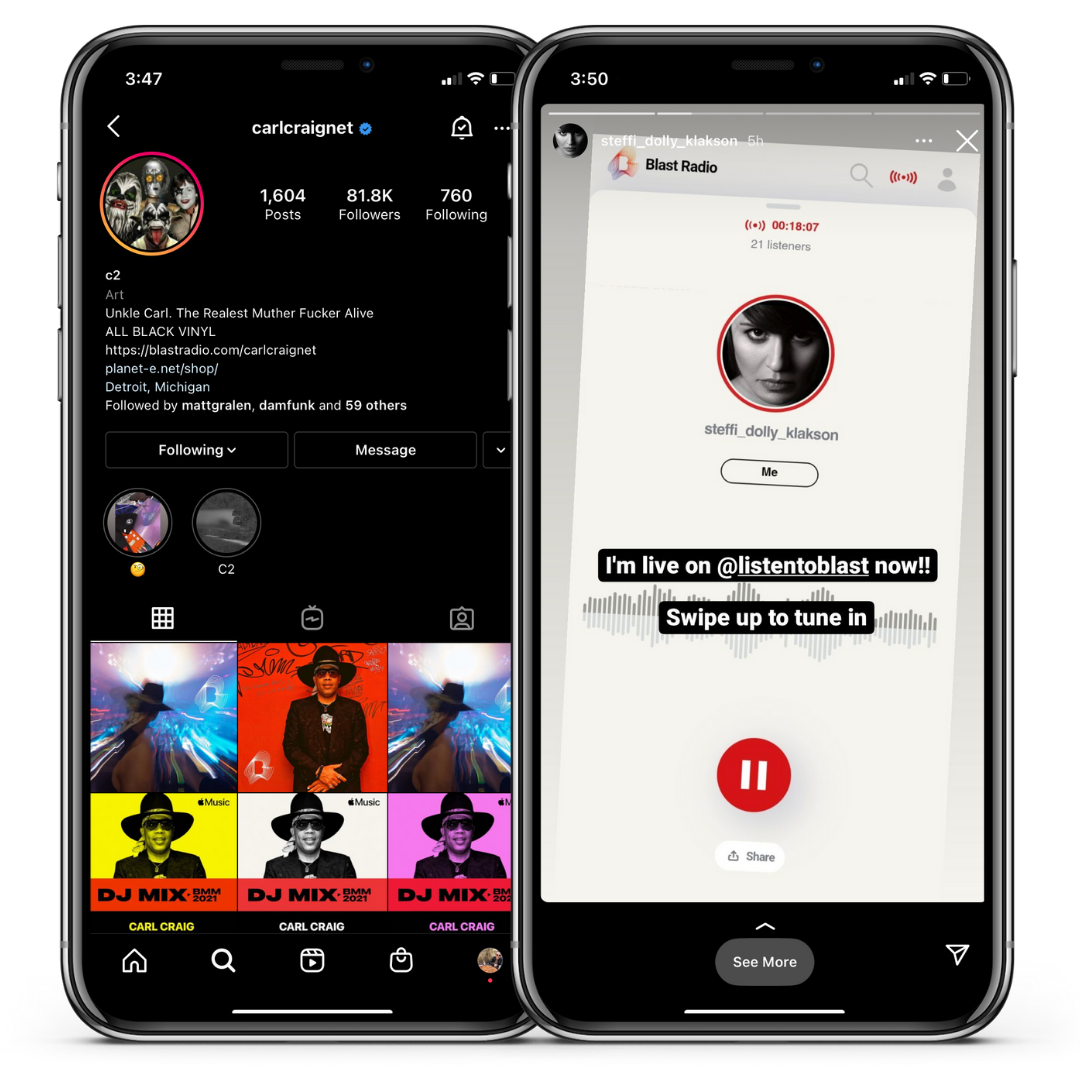 Best practices before a featured broadcast:
As a featured artist, you remain featured for a full 24-hours and app users are notified every time you broadcast. This is a great opportunity to broadcast multiple shorter sets throughout the day.
Since featured broadcasts get higher listener counts, you will want to make sure you sound great. Before broadcasting, make sure to reset your internet router and do a Sound Check.
See these and other broadcasting tips here.